Concho Sports Network Partners with SAISD to Live Video Stream Central and Lake View Football Games
Concho Sports Network is excited to announce that we are now the official video streaming partner of San Angelo Angelo ISD athletics. This partnership will allow us to LIVE stream 2020 San Angelo Central and San Angelo Lake View home football games at conchosports.com and our various social media channels and TV apps.
The legend of Friday night football was born in West Texas, and there is no bigger high school football hotbed with a more passionate fan base than right here in San Angelo.
Concho Sports Network saw a huge void in San Angelo high school football coverage upon our launch in 2018. Now our partnership with SAISD allows us to bring an unprecedented level of Chiefs and Bobcats football coverage to San Angelo football fans.
"Concho Sports Network was launched after seeing a void in Concho Valley high school football coverage compared to some other parts of the state," Concho Sports Network Founder Shea Harris said. "Our mission statement has been to support and promote our area student athletes and teams. Unique coverage, including streaming high school sporting events, has been the main way that we aim to accomplish our mission. With that in mind we're thrilled to partner up with San Angelo ISD."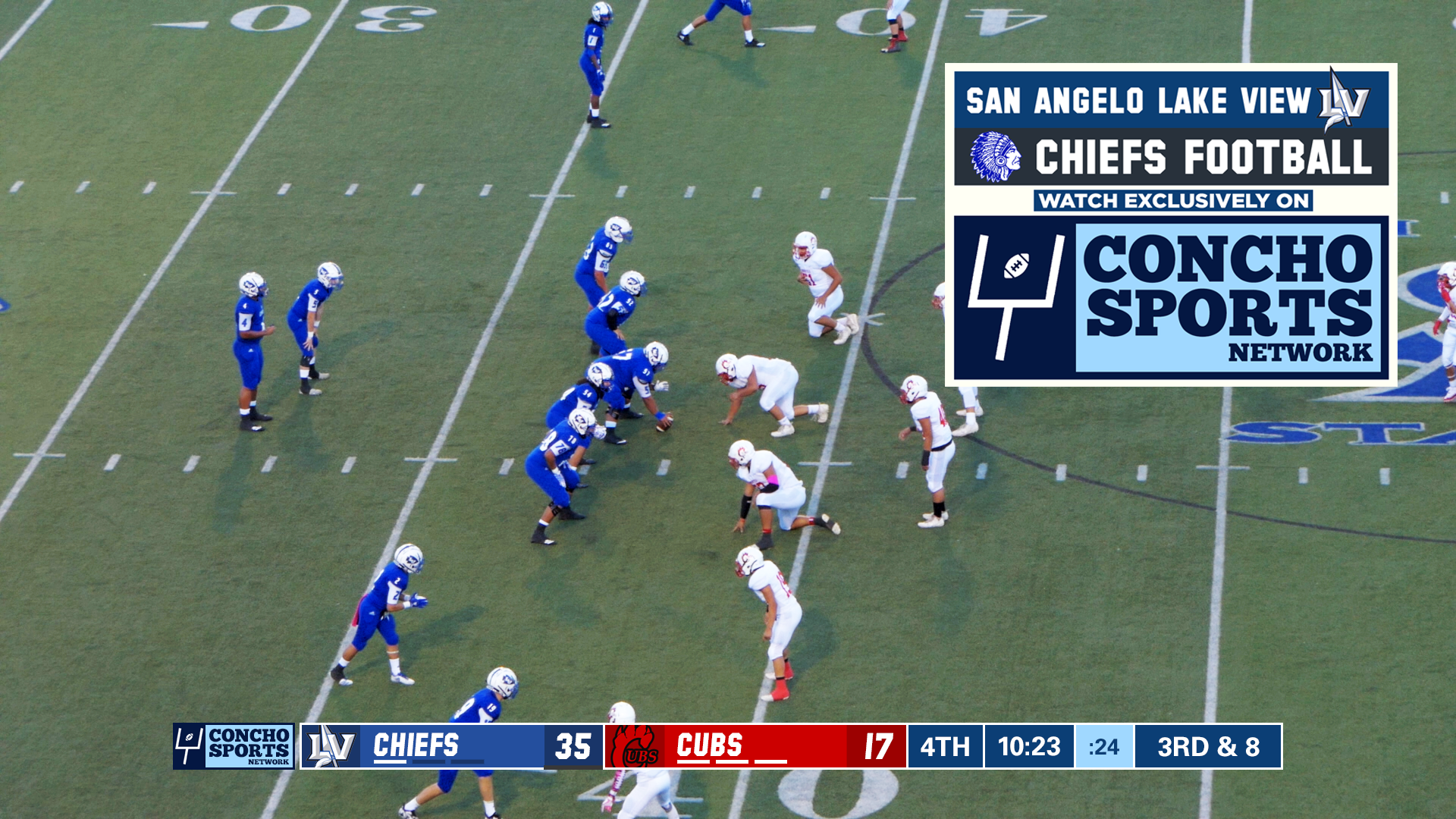 The timing of this partnership is also important due to the current pandemic's effects on sports. With game attendance limited to a maximum of 50% stadium capacity, fan access to live game broadcasts is essential.
Concho Sports Network game streams will feature play-by-play and color commentary and will be shown in full 1080p HD/60 frames per second with multiple camera angles and slow motion instant replay.
San Angelo Gameday
Every Friday night our Chiefs and Bobcats football coverage starts LIVE at 5:30pm with San Angelo Gameday Countdown from San Angelo Stadium. CSN's in-depth pregame coverage will include game previews and analysis as well as coach interviews and much more. San Angelo Gameday Countdown will take fans all the way to kickoff at 7pm.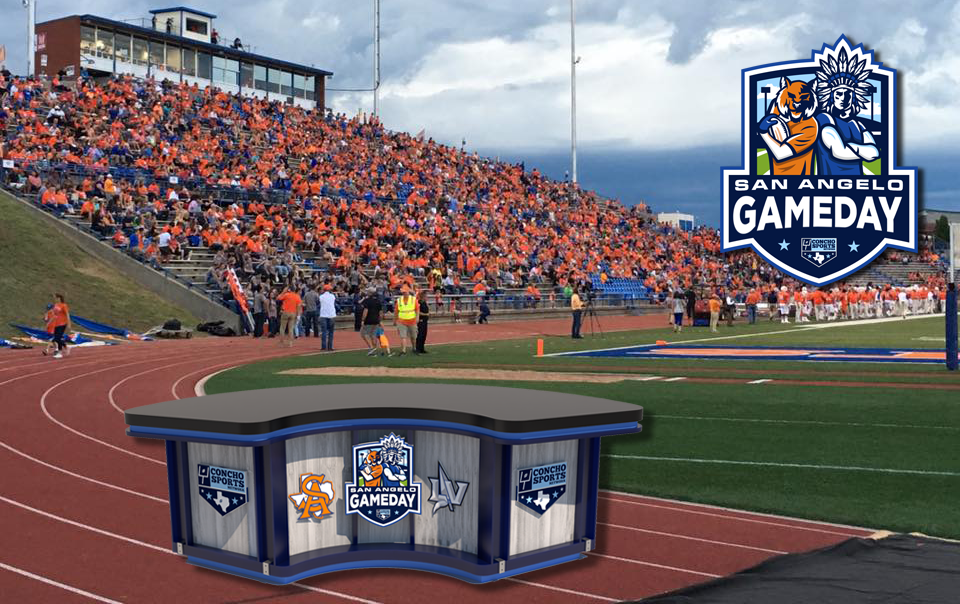 Once the game starts we provide coverage from start to finish so you don't miss a second of the game. At halftime our San Angelo Gameday crew will provide first half highlights, stats, and analysis leading into the second half. We will also show portions of the band and drill team performances.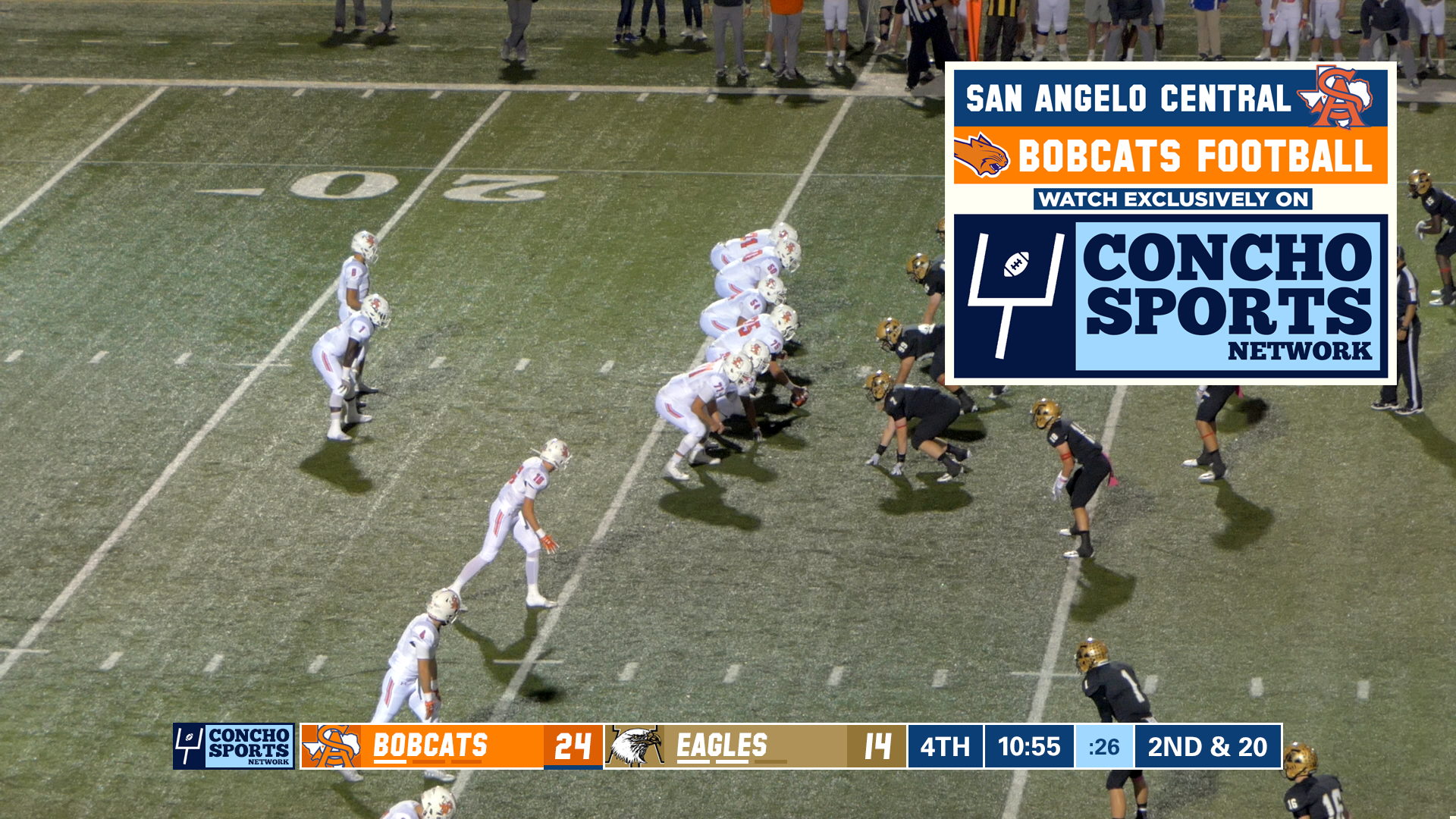 Immediately following the game we go on LIVE with San Angelo Gameday Final, the best postgame Bobcats and Chiefs football coverage in San Angelo. We will bring you full game highlights, final stats, analysis, and the postgame reaction with coaches and players.
Concho Sports Network will put all of the atmosphere, tradition, and pageantry of West Texas high school football on display in our live streams.
Central Bobcats Statcast and Lake View Chiefs Statcast
To complement our live broadcasts we will bring live stats to fans with our Bobcats Statcast and Chiefs Statcast. Each will have a page at conchosports.com where fans at home or in the stands can get complete LIVE team and player stats along with results of each play, down-and-distance, etc.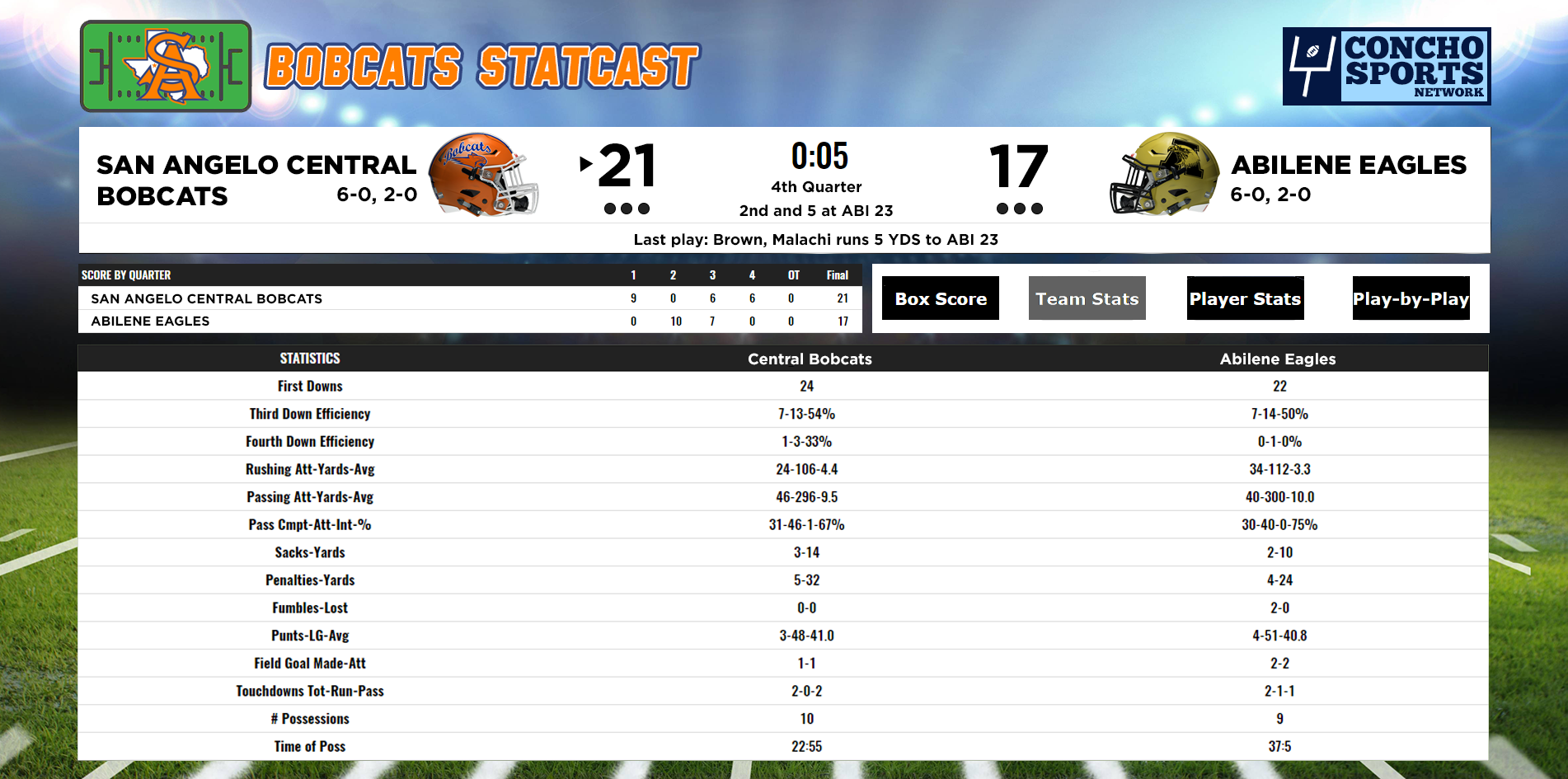 Concho Sports Network is pleased to bring San Angelo football fans next-level, wall-to wall Central Bobcats and Chiefs football coverage.
"We couldn't be more excited to broadcast Bobcats and Chiefs football and other school events for our community," Harris added. "I am a graduate of San Angelo ISD myself, so being able to provide this service for the district and give back to the community in this way is a dream come true."
High school football coverage in San Angelo will never be the same!
Where to watch
Whether you like to watch games on your TV, PC, laptop, phone, or tablet, we'll be there. Central and Lake View home football games can be viewed on the following Concho Sports Network video platforms:
-Conchosports.com
-Concho Sports Network Roku app
-Concho Sports Network Amazon Fire TV app
-YouTube.com/ConchoSports
-Facebook.com/ConchoSports
-Twitter.com/ConchoSports
-Lonestargridiron.com
*Tentative broadcast schedule
Friday, 8/29 7pm – Lake View vs. Lamesa
Friday, 9/11 7pm – Lake View vs. Sweetwater
Thursday, 10/1 7pm – Lake View vs. Fabens
Friday, 10/2 7pm – Central vs. El Paso Montwood
Friday, 10/16 7pm – Central vs. Amarillo Tascosa
Thursday or Friday, 10/22 or 10/23 – Lake View vs. Fort Stockton
Thursday, 10/29 7pm – Lake View vs. Andrews
Friday, 10/30 7pm – Central vs. Odessa
Friday, 11/20 7pm – Central vs. Odessa Permian
Friday, 12/4 7pm – Central vs. Abilene
*Due to the fluidity of the Covid-19 panedemic situation, schedules may change before the season starts and throughout the season.
Concho Sports Network Bobcats and Chiefs broadcast team
Concho Sports Network broadcasts of Bobcats and Chiefs football features an excellent broadcast team that features veteran play-by-play broadcaster Dr. Herman Howard, Hall-of-Fame Coach Jim Slaughter as color commentator for the Chiefs, and Jeff Stewart as color commentator for the Bobcats.
Our San Angelo Gameday pregame, halftime, and postgame team includes host Vincent Salazar, Former Central coach Larry Hoelscher, Bobcats football legend Gehrig Scott, and Thomas Jones.
In addition to football, we will also live stream other Lake View and Central sports and school events throughout the school year.